Following is a discussion about each phase of business.  We will discuss the challenges of each phase by analyzing the three fundamentals of business: People, Plan, and Process.  Which phase is your business in?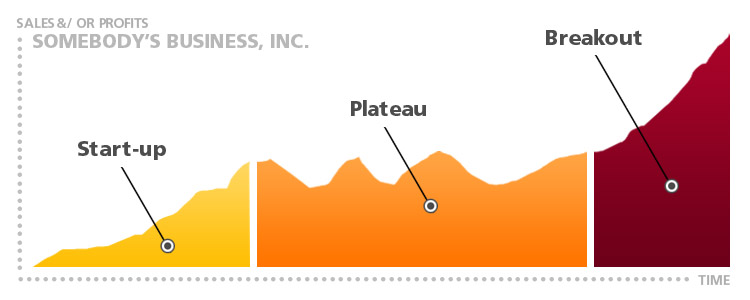 Start-up
When your business starts up – you go through a period of growth.  This is a critical time.
People: You will need to identify, recruit, and train the right people.
Plan: You want to make sure you have a sound business plan in place not only for today but a plan that anticipates future changes in the marketplace.
Process: You will need to establish fundamentally sound policies and procedures.  Properly designed processes will help facilitate your continued growth keeping
you from wasting time, efficiency, and valuable resources.
Plateau ("Shark Teeth")
After a period of growth, a lot of businesses enter a period of up and down performance.  When this is charted or graphed, it may resemble "shark teeth" or a trough.  You are treading water – just moving along.
People: The people that helped you in the Start-up phase may not be the right
people for your next phase of growth and/or they may not be in the right
roles for their given areas of strength.  Often times, good people merely
need to be pointed in a new direction or assigned to different roles to blossom and grow.
Plan: Your business plan may need to be re-evaluated.  The way the market looked when your business first started may have changed.  You need to re-evaluate.
Process: Due to changes in your business and/or the market, you may need to change or alter your polices and procedures and refine them for efficiency and effectiveness.  Often times, businesses can become burdened with excessive layers of controls that have been added over time.  Having served a purpose at one time, the policies and procedures take on a life of their own and the business becomes bogged down with bureaucracy and redundancy.
Breakout
If you have stalled out or are in a plateau, things become stagnant – neither hot nor cold.  Do you remember the excitement you had when you first started your business?  Has the excitement disappeared?  You are stuck – or so you think.  Are you ready to BREAKOUT?
People:  A business needs to constantly evaluate its talent.  Honest, hardworking people should be retained – but "freed-up" to serve in their given areas of strength and giftedness.  Often times, to breakout, you may find that you need to recruit a certain type of person or talent that you have never had before (Hint: an Integrated Executive Solutions executive just might be the person you are looking for).
Plan:  To get out of this plateau – you are going to have to change.  This change needs to be profound and is accomplished with some sort of "change agent." (Hint: an Integrated Executive Solutions executive just might be the "change agent" you are looking for).
Process:  As in the Start-up phase, it is not atypical that a whole new set of policies and procedures need to be created to usher in the profound changes in your business plan.  (Hint: an Integrated Executive Solutions executive can help you design and/or refine your policies and procedures to help usher in a new period of robust growth).
At Integrated Executive Solutions, no matter what phase you are in – we are here to help.  We specialize in "change agents" and we are here to come along side and help you "breakout" and get to that "next level."