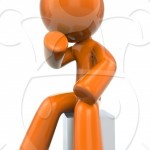 Copy- improve- create.  It's like lather-rinse-repeat.  When you break it down, it's really quite simple.  Most businesses, regardless of industry, are following one of those themes.
Let me suggest to you that if you want to make the most impact, then don't spend your time copying what someone else is doing.  They say "imitation is the sincerest form of flattery."  If you merely copy what some other business is doing, you do more for your competitor than you do for you.
Now, if you can improve on someone else's idea – by all means.  The pendulum will shift back to you.  Countless businesses and products have been launched from the "shoulders" of its predecessors.  If you can, improve on your own products or services -that's even better.
But if you really want to hit a home run, try as you may to create something that's never been done before: to create a new product-maybe even birth a new industry.  Sitting outside a local coffee shop, someone asked me what I did for a living.  I politely answered – and then asked the same question.  What I got for an answer was a two and a half hour look at a brand new technology that, for all intents and purposes, looks to revolutionize our world as we know it.  It's for real.  But since I try to keep these blogs as short as possible, I will need to leave you in suspense and conclude.
Like carriage to car, lamp to light bulb, and cassette to CD, making that quantum leap forward is what real change is all about.  What is your idea?
Think about it!
Would you like to know more?
Visit our website: