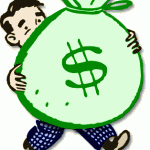 Is all money created equal?  If you think money is money – think again.  Whether for personal reasons or for your business, do your best to establish some level of working capital.  Call it a "rainy day" fund, working capital, a reserve account, etc.  Something is better than nothing – and more is better than less.
Into every life (or in every business), a little rain must fall.  You will appreciate your diligence in establishing a reserve account when you have to wait out that next little storm.  Once you establish a reserve account, do your best to be disciplined about maintaining it.
Avoid the temptation to use your reserve account for that down payment on the brand new home (or commercial building), etc.  If you spend your reserve account on a "long-term" investment (e.g. like a home or building) – you will have a hard time getting that money back out if you need it for that "short-term" cash crunch you or your business might be go through.  If your business slows – and you reach for your rainy day money – and it's in your building – you have lost access to an important resource.
If you do have to tap into your reserve account, do your best to re-establish it as soon as you can.  Have you established a reserve fund?
Think about it!
Would you like to know more?
Visit our website: