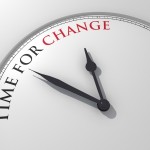 Have you ever noticed that all of us tend to want to find that comfortable little place I will call equilibrium point.  It's that little "pocket" where things feel just right.  Whether it's your exercise routine (or lack thereof), your relationships, your diet, or the business you manage, we tend to find ourselves stuck in these spaces in life that we find down right comfortable.  The problem is, over time, those equilibrium points tend to get very confining and they eventually diminish. 
For example, you start out on a diet with all kinds of commitment, resolve, and discipline.  Eventually, at some point, the hard work becomes a challenge and we begin to allow ourselves a "cheat meal" here and there.  The "cheat meal" eventually becomes the "norm" again and we are back to where we started (nowhere).
I have met a lot of business owners and business managers who find themselves "stuck" in this equilibrium point.  All the while, the norm gradually begins that slow deterioration until some self-prevented "crisis" develops.  That slightly lower profit margin, or the slightly fewer leads we are running, that slightly lower cash balance, etc.  You know where this is going.
It's time to act and start moving up instead of down.
Think about it!